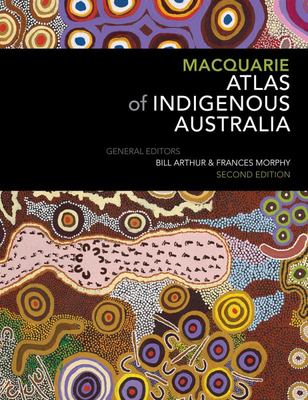 $79.99
AUD
Category: HISTORY
'The Macquarie Atlas of Indigenous Australia has a place on the work table of every Australian student, on the coffee table of every Australian home and on the desk of every Australian political representative.' Senator Patrick Dodson The Macquarie Atlas of Indigenous Australia is a unique tool for expl oring and understanding the lives and cultures of Australia's First Peoples. An atlas can represent - in graphic form - a pattern of human activities in space and time. This second edition of the award-winning Macquarie Atlas of Indigenous Australia opens a window onto the landscape of Australian Aboriginal and Torres Strait Islander lives, from over 60 000 years ago to the present time. Each chapter has been extensively revised and updated by one or more experts in the field, under the general editorship of Bill Arthur and Frances Morphy of the Centre for Aboriginal Economic Policy Research at the Australian National University. The maps, which form the core of the book, are supplemented by explanatory text and numerous diagrams, photographs and illustrations, including Indigenous artworks. This book is a collaborative publication between the Australian National University (ANU), the Australian Bureau of Statistics (ABS) and Macquarie Dictionary. ...Show more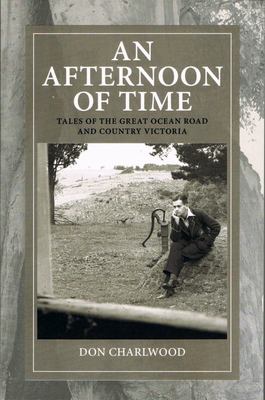 $24.95
AUD
Category: HISTORY
Two stories have been added to this new edition to make twelve beautifully told and entertaining tales of rural life in Western Victoria during the 1930s. Four of the stories centre on the Otway Forest and the Great Ocean Road of that time. The other eight stories tell of farming and community life in t he Western District pre-WWII. Many of the author's photographs taken in the 1930s and '40s are included in this edition. Also included are the author's Reflections -- written in his ninety-fifth year. Charlwood tells of the people who influenced and encouraged his writing, and of the experiences and observations that were part of his progression to a published and respected author. ...Show more
$19.99
AUD
Category: HISTORY | Series: The\Drum Ser.
The first shots were fired at 11 a.m. on the 19th of July 1916. The Battle of Fromelles lasted less than 24 hours. When the battle was over, more than 5000 Australian soldiers had been killed, wounded or taken prisoner - more soldiers died at Fromelles than in the Boer, Korean and Vietnam wars combined. What was the point of this bloody loss of life and terrible suffering? What did it achieve? And why, almost a century later, did the attention of the world once again turn to Fromelles? ...Show more
$39.99
AUD
Category: HISTORY
A landmark history of Australia's first successful settler farming area, which was on the Hawkesbury-Nepean River. Award-winning historian Grace Karskens uncovers the everyday lives of ordinary people in the early colony, both Aboriginal and British.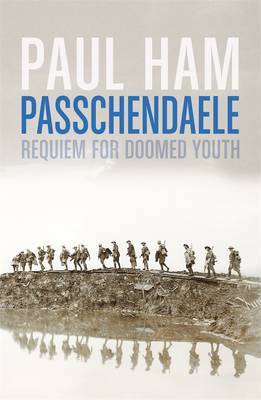 $45.00
AUD
Category: HISTORY
The intervening century, the most violent in human history, has not disarmed these pictures of their power to shock. At the very least they ask us, on the 100th anniversary of the battle, to see and to try to understand what happened here. Yes, we commemorate the event. Yes, we adorn our breasts with po ppies. But have we seen? Have we understood? Have we dared to reason why? What happened at Passchendaele was the expression of the 'wearing-down war', the war of pure attrition at its most spectacular and ferocious. Paul Ham's Passchendaele- Requiem for Doomed Youthshows how ordinary men on both sides endured this constant state of siege, with a very real awareness that they were being gradually, deliberately, wiped out. Yet the men never broke- they went over the top, when ordered, again and again and again. And if they fell dead or wounded, they were casualties in the 'normal wastage', as the commanders described them, of attritional war. Only the soldier's friends at the front knew him as a man, with thoughts and feelings. His family back home knew him as a son, husband or brother, before he had enlisted. By the end of 1917 he was a different creature- his experiences on the Western Front were simply beyond their powers of comprehension. A century later, this is what 'Passchendaele' has come to mean in the public mind- a struggle that, even by the standards of the Great War, entered the realm of the abominable, infernal and monumentally futile. Humans, animals, ordnance and pouring rain were thrown together in a maelstrom of steel and flesh in the name of a strategy that prescribedcasualty lists in the hundreds of thousands. Such huge losses were not some epic blunder. Casualties on this scale were planned and, in the context of the time, expected, in the minds of commanders captive to an offensive they were helpless to avert. Paul Ham distinguishes his book from other 'mud and blood' accounts by setting the soldiers' experiences in the context of the military and political power that controlled him. He shines a light in particular on the fraught relationship between David Lloyd George, the British Prime Minister, and Field Marshal Sir Douglas Haig, commander-in-chief of the British (and Dominion forces) on the Western Front, to show how their poisonous relationship influenced the outcome of the battle. Lloyd George had pledged never to fight another Somme, another 'Haig' war. But Haig, short of the political will to stop the war, believed he had no choice other than to keep battering away at the German lines. Their relationship degenerated into a state of mutual loathing that had a direct impact on the tragedy of Passchendaele. Paul Ham's Passchendaele- Requiem for Doomed Youthtells the story of ordinary men in the grip of a political and military power struggle that determined their fate and has foreshadowed the destiny of the world for a century. Passchendaelelays down a power ...Show more
$45.00
AUD
Category: HISTORY | Reading Level: General Adult
The Colony is the story of the marvellously contrary, endlessly energetic early years of Sydney. It is an intimate account of the transformation of a campsite in a beautiful cove to the town that later became Australia's largest and best-known city. From the sparkling beaches to the foothills of the Blu e Mountains, Grace Karskens skilfully reveals how landscape shaped the lives of the original Aboriginal inhabitants and newcomers alike. She traces the ways in which relationships between the colonial authorities and ordinary men and women broke with old patterns, and the ways that settler and Aboriginal histories became entwined. She uncovers the ties between the burgeoning township and its rural hinterland expanding along the river systems of the Cumberland Plain. This is a landmark account of the birthplace of modern Australia, and a fascinating and richly textured narrative of people and place. ...Show more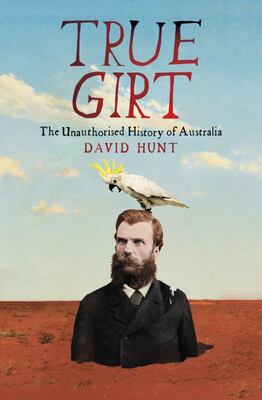 $32.99
AUD
Category: HISTORY
First there was Girt. Now comes . . . True GirtIn this side-splitting sequel to his best-selling history, David Hunt takes us to the Australian frontier. This was the Wild South, home to hardy pioneers, gun-slinging bushrangers, directionally challenged explorers, nervous indigenous people, Caroline Chi sholm and sheep. Lots of sheep.True Girtintroduces Thomas Davey, the hard-drinking Tasmanian governor who invented the Blow My Skull cocktail, and Captain Moonlite, Australia's most famous LGBTI bushranger. Meet William Nicholson, the Melbourne hipster who gave Australia the steam-powered coffee roaster and the world the secret ballot. And say hello to Harry, the first camel used in Australian exploration, who shot dead his owner, the explorer John Horrocks.Learn how Truganini's death inspired the Martian invasion of Earth. Discover the role of Hall and Oates in the Myall Creek Massacre. And be reminded why you should never ever smoke with the Wild Colonial Boy and Mad Dan Morgan.If Manning Clark and Bill Bryson were left on a desert island with only one pen, they would write True Girt. ...Show more
$49.99
AUD
Category: HISTORY
Much more than a history atlas, this book drops you right in the heart of the action, as 130 detailed maps tell the story of pivotal episodes in world history, from the first human migrations out of Africa to the race for space. After the foreword written by renowned broadcaster and historian Peter Snow , purpose-made regional and global maps present the history of the world as it happened, charting how events traced patterns on land and ocean - patterns of exploration, discovery, or conquest that created powerful empires, fragile colonies, or terrifying theaters of war. An interplay of text and graphics leads you around the page so that you can follow the story of civilizations through ancient, medieval, and modern times. But not every page is full of maps. At key points in History of the World Map by Map, broad, sweeping introductions provide a chance to step back and look at entire periods, such as World War 2, or to explore overarching themes, such as the Industrial Revolution. Picture spreads, meanwhile, focus on epoch-defining moments or developments, such as fascism and communism, and the invention of printing. ...Show more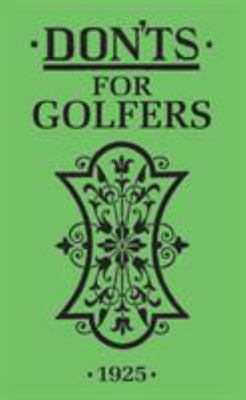 $7.99
AUD
Category: HISTORY
Don'ts for Golfers was first published in 1925, as part of a series that included Blanche Ebbutt's Don'ts for Husbands and Don'ts for Wives. This pocket-sized facsimile edition contains hundreds of tips for golfers of all abilities. The advice, ranging from technique and fashion to etiquette on the cour se and in the Club House, provides an entertaining snapshot of life in 1920s Britain. Don'ts for Husbands and Don'ts for Wives were republished by A&C Black in 2007 and have sold over 380,000 copies to date. 'Don't over-indulge yourself in eating and drinking during the non-golfing days, and then expect to work off excess by "a good game of Golf." You may play Golf of sorts, but it will not be a good game.' 'Don't make Golf your sole topic of conversation. There are a few otherwise quite intelligent persons who are non-golfers. You will never make converts if you bore non-players to distraction by for ever talking of the Royal and Ancient Game.' 'Don't blame your clubs for faults of your own that may be easily corrected if you analyze your methods of using the implements.' 'Don't keep up a running fire of conversation during the round. Golf is a game in which thought is necessary and silence is preferable to chatter.' 'Don't irritate your opponent by wearing jazzy colours. To dazzle his eyes with a multi-coloured pull-over or peace-disturbing golf stockings is to take a mean advantage.' ...Show more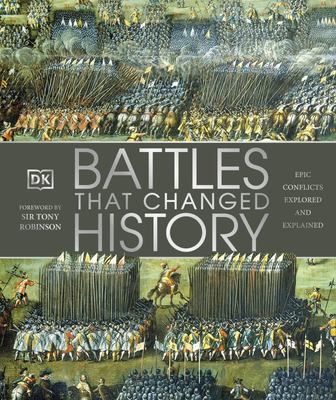 $39.99
AUD
Category: HISTORY
From the fury of the Punic Wars to the icy waters of Dunkirk, relive 5,000 years of world-changing combat with this guide to the most famous battles in history, including a foreword from TV presenter and historian Tony Robinson. This military history book takes you on a journey through the battlefields of history, from the ancient world to the American Civil War, World War 1, World War 2, the Cold War, and beyond. Maps, paintings, and photographs reveal the stories behind more than 90 of the most important battles ever to take place, and show how fateful decisions led to glorious victories and crushing defeats. From medieval battles and great naval battles to the era of high-tech air battles, key campaigns are illustrated and analysed in detail - the weapons, the soldiers, and the military strategy. Famous military leaders are profiled, including Alexander the Great, Napoleon, and Rommel, and crucial arms, armour, and equipment are explained. Whether at Marathon, Agincourt, Gettysburg, or Stalingrad, Battles that Changed Historytakes you into the thick of combat and shows how kingdoms and empires have been won and lost on the battlefield. ...Show more
Heroes
by Stephen Fry
$35.00
AUD
Category: HISTORY | Reading Level: good
Mortals and Monsters Quests and Adventures Few mere mortals have ever embarked on such bold and heart-stirring adventures, overcome myriad monstrous perils, or outwitted scheming vengeful gods, quite as stylishly and triumphantly as Greek heroes. Join Jason aboard the Argo as he quests for the Golden Fl eece. See Atalanta - who was raised by bears - outrun any man before being tricked with golden apples. Witness wily Oedipus solve the riddle of the Sphinx and discover how Bellerophon captures the winged horse Pegasus to help him slay the monster Chimera. Heroes is the story of what we mortals are truly capable of - at our worst and our very best. ...Show more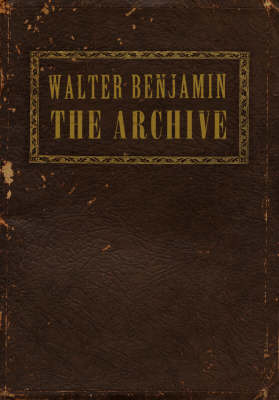 THE ARCHIVE
by Esther Leslie (Translator); Ursula Marx (Editor); Gudrun Schwarz (Editor); Michael Schwarz (Editor); Erdmut Wizisla (Editor); Walter Benjamin
$39.99
AUD
Category: HISTORY
No Marketing Blurb